If you have a garage door manufactured and installed since 1993 then your garage door should have safety eyes installed.  Sometime the a frustration when they get kicked or bumped because your door won't go down, but they're very important.  First, a tiny history lesson:
Per the 1988 version of UL 325, which took effect January 1, 1991, garage doors with a motor (as opposed to a manual lift) installed since 1991 should reverse when they meet resistance, called an inherent entrapment reversing system.  This was updated in 1993, when the requirements were updated to include a redundant entrapment prevention device was required.  These devices can include door edge sensors and electric eyes.  Other required safety features on modern garage door openers include a 30-second timeout, which requires the door to lift if it cannot close fully in 30 seconds, and a manual release to disengage the door from the travel shuttle, typically a red pull handle.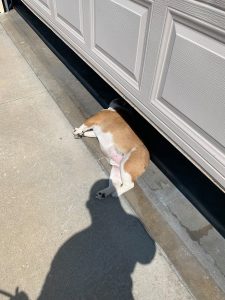 So, why does the garage door sensor height matter?  A fellow home inspector in Alabama shared this photograph of a dog sunning itself in a garage recently:
As a general rule, garage door opener photo sensors should be installed no more than six inches off the ground.  If they are installed too high, say 12 inches off the ground, a low lying object, like this dog, or a small child will not block it, allowing the door to come down.  Even though the door should reverse when it meets resistance, it still will come in contact with, and build pressure on, a person or animal, which could cause serious harm.  Sometimes kids (and animals) like to lay on the cool concrete floor of a garage, but still in the sun's warmth, so take a few minutes and check the height of your garage door opener sensors.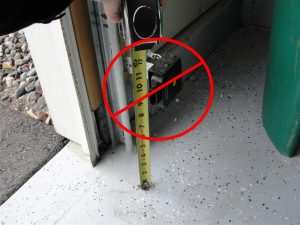 If they're mounted too high, you may have enough slack in the cable to adjust them lower, or you may need to call an electrician or garage door service technician to have them adjusted. Some sensors are mounted on clips which can slide on the garage door rail, others may be fastened to the wood blocked that supports the garage door rails and can be moved by removing the screws and sliding them down.  Be sure you use a measuring tape or ruler to make sure that both sensors are the same height, or the eyes won't be able to see each other and your garage door will not close.